What's happening in lifespark's world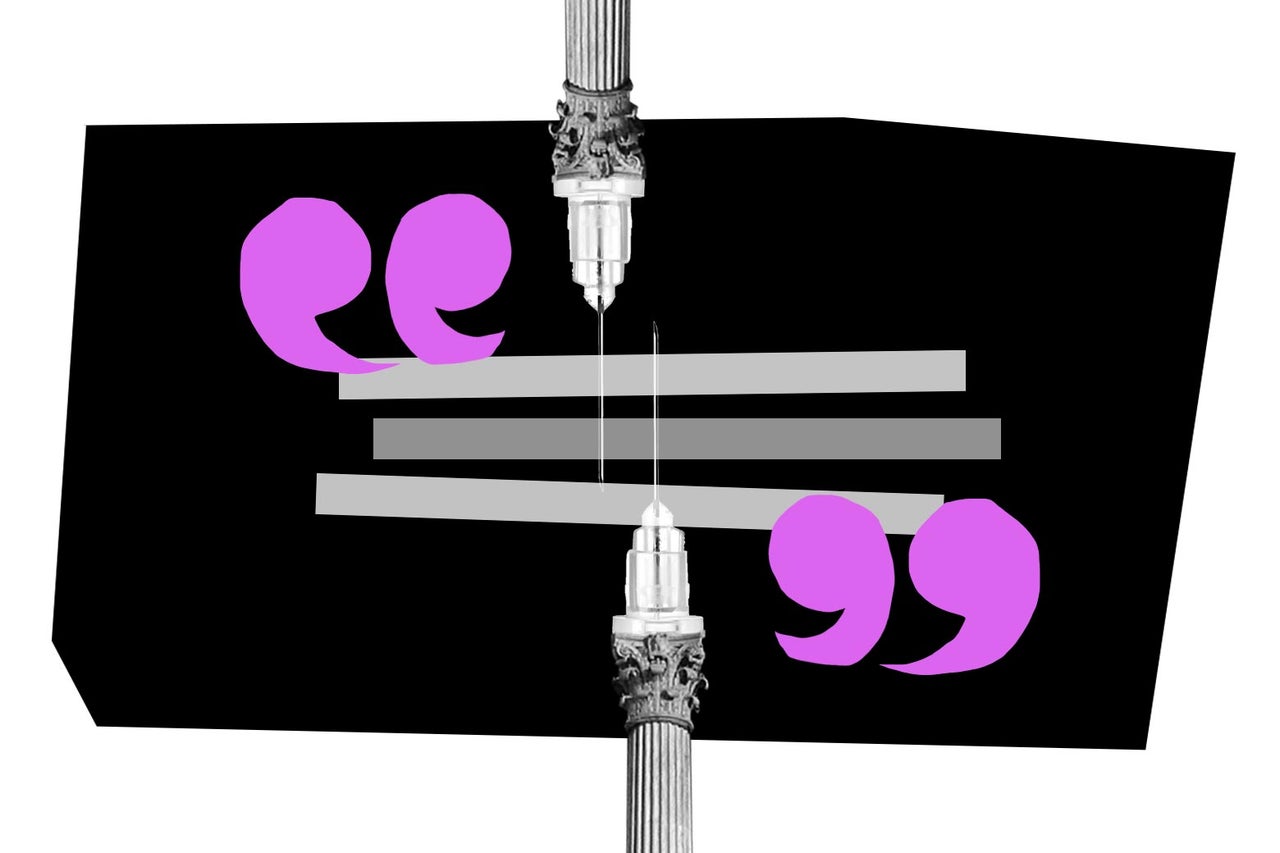 2023-05-23
I Watched My Brother's Lethal Injection... No one understands what this is like.
2023-05-22
Gov. Ron DeSantis temporarily halts scheduled execution of Duane Owen
2023-05-22
Innocence Project asks Supreme Court to review case of Alabama Death Row inmate Toforest Johnson
2023-05-16
RECORDED EXECUTIONS SKYROCKET TO HIGHEST FIGURE IN FIVE YEARS
2023-05-16
A New Execution Method May Soon Be Used In US, And Some Are Concerned
2023-05-15
Biden's death penalty inaction is unacceptable
2023-05-14
America's death row scandals: THREE-HOUR execution, expired lethal injection and denial of last meal

2023-05-13
Abolish the Death Penalty and a Touch of Hope for Richard Glossip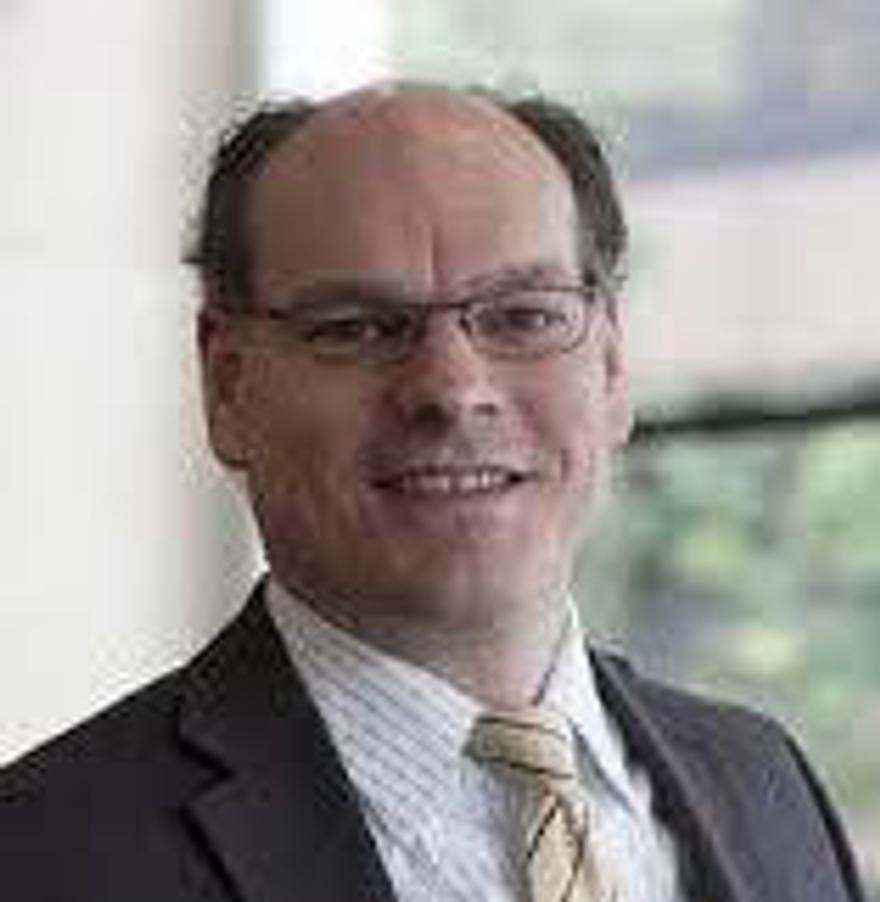 2023-05-11
CHOLARSHIP: Is the Death Penalty Torture Under International Law?
2023-05-11
"The state of Florida killed my friend."
Friendships in US death cells
Sterbebegleitung im Todestrakt mit Ursula Corbin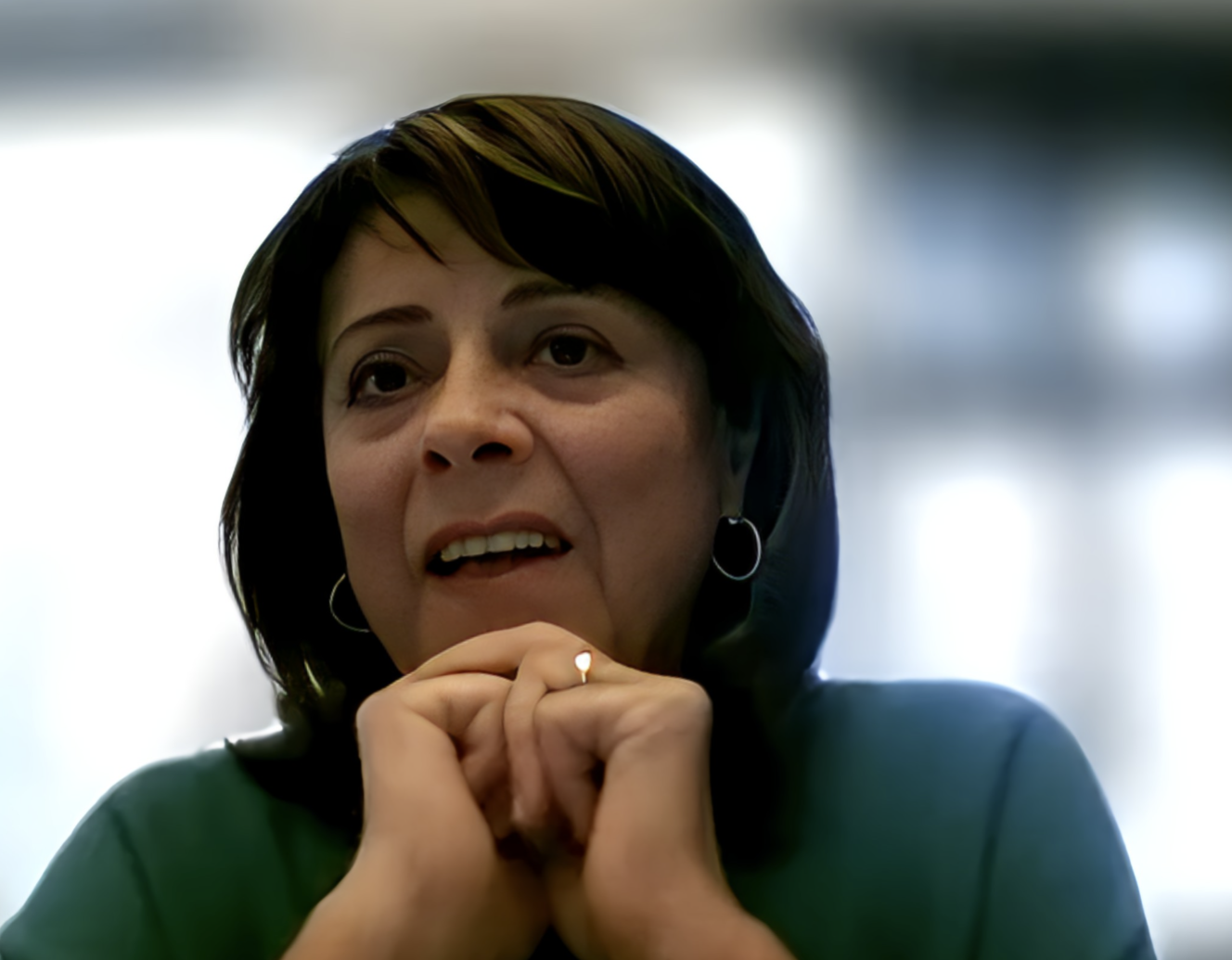 Statement of Ursula Corbin (lifespark founder) at the GA 2023 April 1, 2023 (lifespark's 30th birthday).
Click here to watch the video.
SRF2 interview in German on January 26, 2022
with Ursula Corbin, lifespark founder.
Click here to listen to the programme in German.
lifespark's Anniversary General Assembly 2023
in Berne: April 1, 2023
Invitations has been sent out by letter.
For more details, see the calendar of events in the members' area. (Login required).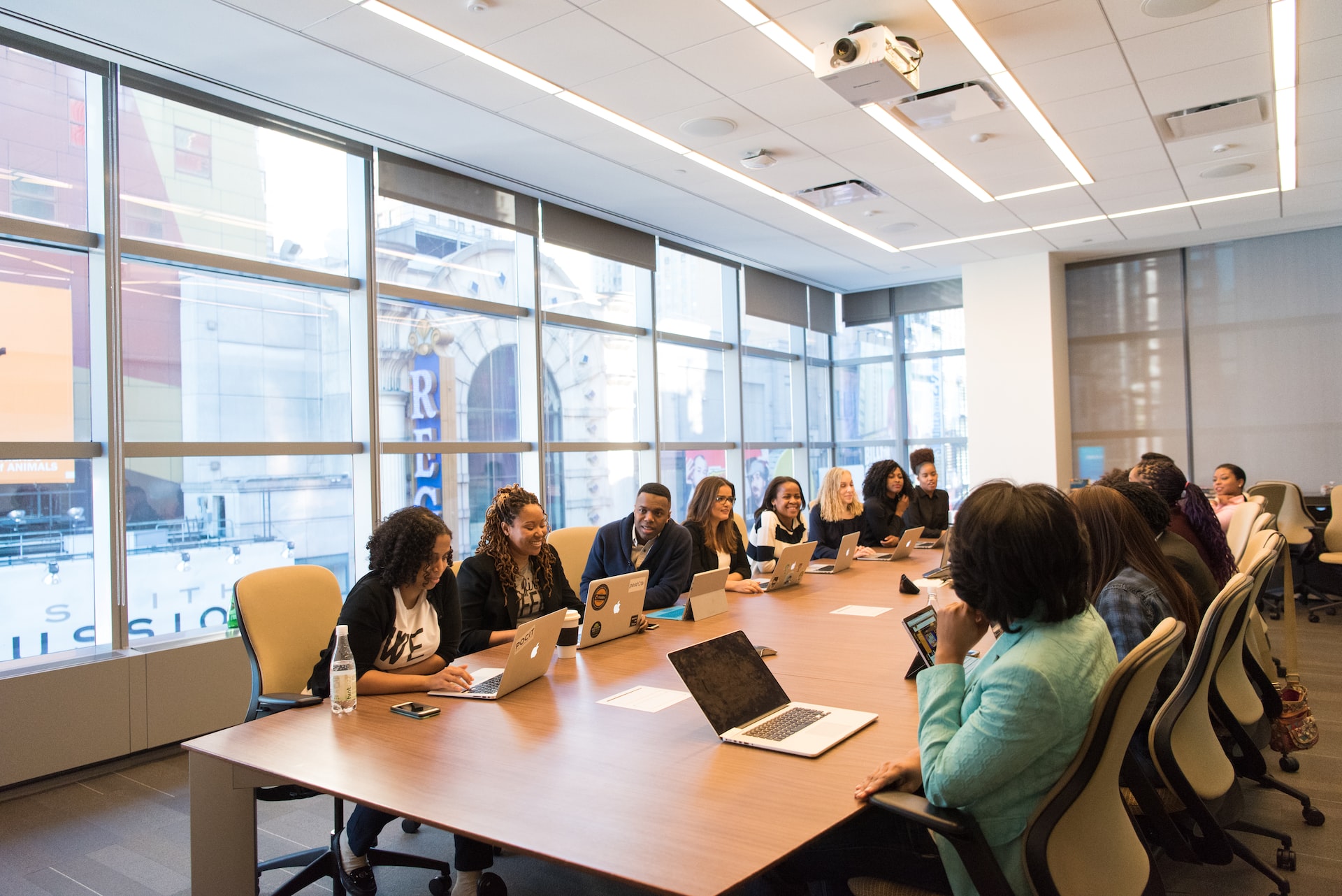 Launch of the international poster competition "Draw me the abolition" for young people committed against the death penalty
On the occasion of the 20th World Day against the Death Penalty, 10 October 2022, young people from all over the world are invited to participate in the 6th edition of the "Draw me the Abolition" competition to design a poster against the death penalty. The 50 best posters selected by an international jury will be exhibited in the participating countries and during the next Congresses against the death penalty organised by ECPM. A trilingual exhibition catalogue will also be published to highlight the creativity and commitment of young people.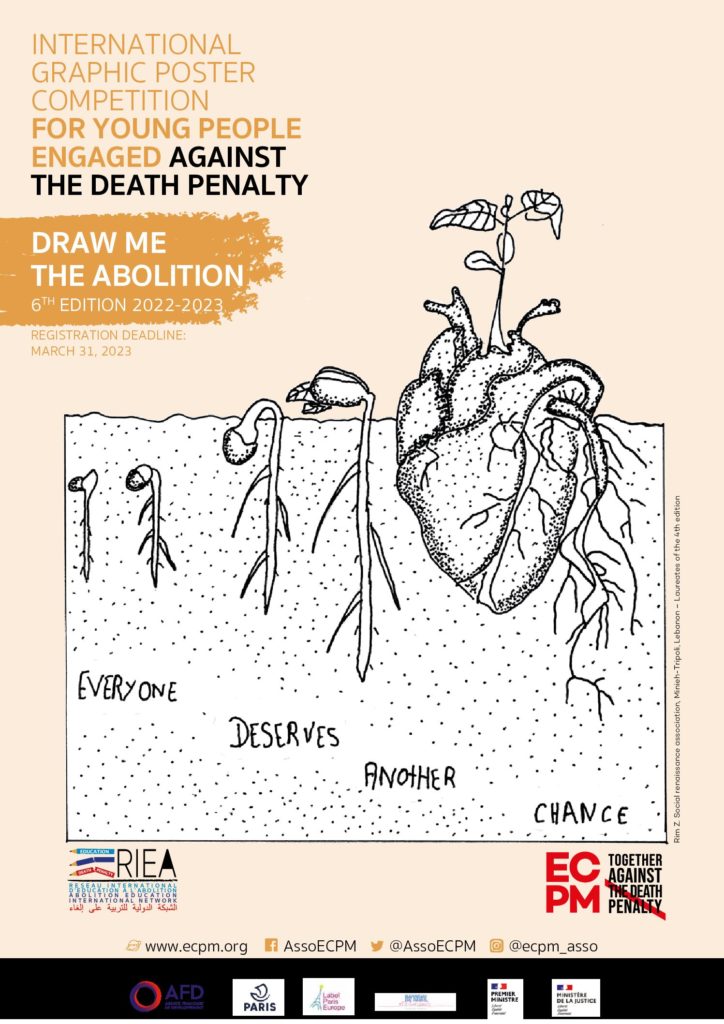 Participation in the competition is free of charge and open to young people aged between 12 and 25 from all over the world. The registration form must be completed by a referent adult (teacher, educator, association leader, etc.) and returned by email to education@ecpm.org
before 31 march 2023.
The competition is organised by ECPM and the International Network for Abolition Education – RIEA (an informal grouping of associations (Algerian, German, Cameroonian, Congolese, French, Italian, Lebanese, Moroccan, Mauritanian, Taiwanese, Tanzanian and Tunisian) working to educate young people about the abolition of the death penalty by promoting the exchange of good practice and the development of collaborative educational tools at the international level.
CONTEST RULES
Are you interested to participate in the contest this year? The contest rules are available below!
REGISTRATION
The registration form must be returned by email to education@ecpm.org and completed by an adult (teacher, educator, association leader, etc.) if the participant is under 18 years old (21 yo for US participants).
Cities for life – cities against the death penalty
annual event in Lausanne: November 25, 2022
TOUTES ET TOUS A LAUSANNE LE VENDREDI 25 NOVEMBRE 2022 !
A l'occasion de l'évènement annuel « Villes pour la vie ; villes contre la peine de mort », vous êtes invité.es à une soirée de partage en tous genres !
Dès 17h30        Café de Grancy – Avenue du Rond-Point 1 · 1006 Lausanne (juste en dessous de la gare de Lausanne)
18h45                « Départ » pour la Maison de Quartier Sous-Gare -Avenue Edouard Dapples 50 – 1006 Lausanne
19h00                Début du spectacle « Signé : condamné à mort» donné dans le cadre de l'évènement annuel 30 novembre
Les associations Sant'Egidio, ACAT, lifespark, Amnesty International vous invitent le vendredi 25 à 19 heures
« Signé : condamné à mort »
Lecture de textes de prisonnier-ères et création musicale par Rita Gay, comédienne et Joséphine Maillefer, musicienne
Des moments durant lesquels les prisonnier-ères ont laissé voyager leur imagination à leur gré, récits lointains et proches à la fois, qu'ils/elles nous proposent d'accueillir en partage.
Ce spectacle nourrit des écrits de nos correspondant.es est unique, chaleureux et émouvant. Ne le manquez pas !
A très bientôt à Lausanne.
Lien au plan d'accès au Café Grancy et à la Maison de Quartier Sous-Gare (PDF)
8TH WORLD CONGRESS AGAINST THE DEATH PENALTY
20TH WORLD DAY AGAINST THE DEATH PENALTY
Observed every 10 October, the World Day Against the Death Penalty unifies the global abolitionist movement and mobilizes civil society, political leaders, lawyers, public opinion and more to support the call for universal abolition of capital punishment. The day encourages and consolidates the political and general awareness of the world-wide movement against the death penalty. 
As the 20th World Day Against the Death Penalty is marked around the world, now is a time to consider and celebrate the gains the abolitionist movement has made over the past 20 years. Now, more than ever, abolitionist actors need to continue working towards the complete abolition of the death penalty worldwide, for all crimes. 
On 10 October 2022, the World Day will be dedicated to reflecting on the relationship between the use of the death penalty and torture or other cruel, inhuman, and degrading treatment or punishment. 
Reporter, September 14, 2022 9pm-9.40pm
Mein Brieffreund in der Todeszelle / My penpal on death row
14.09.2022 21:00-21:40Uhr · Schweiz 2022 · Info / Dok
Click the gearwheel, Subtitles -> English  /  Clicke das Zahnrad, Untertitel -> Deutsch 
Will man jemanden in sein Leben lassen, der in den USA zum Tode verurteilt wurde? Kann man mit einem Mörder befreundet sein? Vier Menschen erzählen, wieso sie ihre Brieffreundschaft mit jemandem in der Todeszelle noch nie bereut haben.
"Mein Name ist William Kopsho. Ich bin seit 21 Jahren im Gefängnis. Ich wurde zum Tod verurteilt, weil ich jemandem das Leben genommen habe", sagt ein sympathisch wirkender Mann Mitte 60. Er hat in einem Streit seine Frau erschossen. Nun wartet er in einem Gefängnis im Bundesstaat Florida auf seine Hinrichtung. Einer seiner engsten Freunde wohnt im Kanton Bern. Patrik Gerber ist Mitte 20 und studiert Medizin. Kennengelernt haben sich die beiden über einen Verein namens "Lifespark", der seit fast 30 Jahren Brieffreundschaften mit Menschen in der Todeszelle vermittelt. "Wenn Patrik Urlaub macht oder mit Freunden essen geht, schickt er mir Fotos", erzählt William Kopsho der Sendung "Reporter". "Das gibt mir das Gefühl, dabei zu sein. Und das ist wunderbar. Durch ihn fühle ich mich zwischendurch wie ein freier Mann. Zumindest in meinem Geist." Patrik Gerber auf der anderen Seite ist durch die Freundschaft mit Kopsho klar geworden, was für ein Privileg es ist, frei zu sein: "Ich schätze und geniesse mein Leben jetzt viel mehr." Die Tatsache, dass er es mit jemandem zu tun hat, der einen Menschen getötet hat, tut der Nähe keinen Abbruch. Das Delikt sei schnell in den Hintergrund getreten. Aus einem fremden Mörder wurde ein enger Freund. Reporter Simon Christen hat drei Frauen und einen Mann porträtiert, die in der Schweiz leben und einen Brieffreund haben, der in der Todeszelle sitzt. Was hat sie dazu motiviert, einen solchen Menschen in ihr Leben zu lassen? Was gibt ihnen dieser Kontakt? Und wie gehen sie damit um, dass es eine Freundschaft auf Zeit ist? Irgendwann wird der Tag der Exekution kommen. Dann dürfen die Gefangenen Menschen, die ihnen wichtig sind, einladen, dabei zu sein. Auch ihre Brieffreundinnen und Brieffreunde aus der Schweiz.
Ein Film mit deutschen und englischen Untertiteln von
Simon Christen
Would you want to let someone into your life who has been sentenced to death in the USA? Can you be friends with a murderer? Four people talk about why they have never regretted their pen-pal relationship with someone on death row.
"My name is William Kopsho. I have been in prison for 21 years. I was sentenced to death for taking someone's life," says a pleasant-looking man in his mid-60s. He shot his wife in an argument. Now he is awaiting execution in a Florida state prison. One of his closest friends lives in the canton of Bern. Patrik Gerber is in his mid-20s and is studying medicine. The two got to know each other through an association called "lifespark," which has been arranging penpalships with people on death row for almost 30 years. "When Patrik goes on vacation or out to dinner with friends, he sends me photos," William Kopsho tells the program "Reporter." "It makes me feel like I'm there. And that's wonderful. He makes me feel like a free man at times. At least in my mind." Patrik Gerber, on the other hand, has realized through his friendship with Kopsho what a privilege it is to be free: "I appreciate and enjoy my life much more now." The fact that he is dealing with someone who has killed a human being does not detract from the closeness. The crime quickly faded into the background, he says. A stranger who was a murderer became a close friend. In this documentary, reporter Simon Christen portrays three women and one man who live in Switzerland and have a pen pal on death row. What motivated them to let someone like that into their lives? What do they get out of the relationship? And how do they deal with the fact that it is a friendship for a limited time? At some point, the day of execution will come. Then the prisoners are allowed to invite people who are important to them to be there. That includes their penpals from Switzerland.
A film with English and German subtitles by
Simon Christen
Tele 1 Fokus interview with our member Beatrice
Watch the Tele 1 Fokus interview with our member Beatrice, recorded on December 20 2021. In the interview, Beatrice talks about her long friendship with her penfriend Oscar.
Home
Go back to our home page!
about lifespark
Find out more about us. See our mission, history and information about our board members and taskholders.
being a penpal
Find out all about becoming a penpal.
The Death Penalty
Find out about the death penalty in the USA, especially arguments for and against it. There is a lot to learn!
Contact and Members only
When you join lifespark, you get access to the members' area of the site, with all kinds of useful information about penfriendships and our organization.